Watch Live Demos on the Show Floor
Learn how to streamline your refits with the newest methods and materials available. The Refit Show will host live demonstrations by exhibitors in the center of the exhibit hall floor. These short workshops will take place hourly. Exhibiting companies will demonstrate their products and take questions during live Q&As.
All demonstrations are FREE to attend as a registered guest at the Refit Show.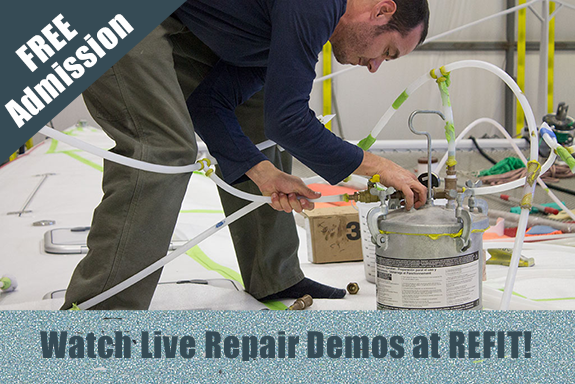 Refit Show Live Demonstrations: January 10
| Date | Time | Company | Description |
| --- | --- | --- | --- |
| | | | |
| Wednesday | 11:00am | Awlgrip | Awlgrip will be demonstrating the features, benefits, and reparability of its revolutionary Awlcraft SE (Solids and Effects) base coat and clear coat system. Awlcraft SE is a full range of over 18 thousand standard or custom colors and effects (metallic and pearl finishes). The Awlcraft SE is fast drying, which allows for faster application and yard productivity. Awlgrip representatives will showcase the step by step process for repairing the coating to keep the yacht looking spectacular. |
| | 12:00pm | Interlux | Interlux yacht finishes will showcase its premium high solids, high performance barrier and antifouling system using InterProtect® HS (High Solids) and Micron® 99 that drastically reduce labor costs and improve yard productivity. Micron 99, the patented and true Self Polishing, for all waters, is a powerful and long lasting antifouling that can only be professionally applied on boats over 82 feet, providing Superyachts superior antifouling protection anywhere in the world. |
| | 1:00pm | World Panel Products | World Panel Products' representatives will describe the process of fabricating synthetic teak decking. They will go over some of the similarities that PVC decking has with natural teak. Then they will demonstrate the equipment that is used to weld the synthetic teak decking together. |
| | 2:00pm | Advanced Mechanical Enterprises | Streamlining Cardan Shaft Alignment Using the Rotalign Touch: Alignment is a precise science that not all are capable of. Cardan shafts are especially difficult to align because of the many angles involved. Some people don't even know alignment of those angles are necessary! This very complex alignment can prove extremely tricky, even for the most seasoned alignment engineer or technician. Pruftechnik, the world's leader in laser alignment and condition monitoring equipment, has simplified cardan shaft alignment using their new Rotalign Touch. Come see a mock alignment on a cardan shaft and see how you can master this precise science with only a few simple touches. |
| | 3:00pm | Culinary Convenience | (Description coming soon.) |
| | 4:00pm | | |
---
Refit Show Live Demonstrations: January 11
| Date | Time | Company | Description |
| --- | --- | --- | --- |
| | | | |
| Thursday | 11:00am | Advanced Mechanical Enterprises | Listen & Learn with Pruftechnik: Vibguard, Vibxpert II & Sonochek: Predictive and preventative maintenance by utilizing condition monitoring is the most efficient way to streamline your maintenance budget. Vibration analysis provides readings that give very specific data that can detail your machinery's health, allowing you to become proactive, rather than reactive when failures occur. The VIBXPERT II and the VIBGUARD by PRUFTECHNIK allow for the quick, easy, economical and efficient collection of data on your equipment. The VIBGUARD allows for continuous data collection that's automatically transferred to the people analyzing it, while the VibXpert II is a simple and affordable portable unit that can be operated with minimal training. Their newest innovation, the Sonochek, can detect inaudible waves and frequencies given off by machinery, making them audible to the human ears while also giving a visual reading. This new technology can identify a damaged bearing from an early stage and can pinpoint the exact location of leaks, all of which can be pulled in a full report reading. An integrated camera and microphone allows users to comment on his/her findings and perfect the final report. During this demonstration viewers will have an inside look at how these systems collect vibration and frequency data to guide their maintenance plans. |
| | 12:00pm | Island Marine Electric | CMC Marine will demonstrate electric stabilizer fins and discuss the full line of electric bow thrusters and steering systems. |
| | 1:00pm | Telemar | Telemar will demonstrate its unique take on the 'Glass Bridge' console for luxury vessels, allowing visitors to see the new Telemar Glass Bridge system and experience its innovative ergonomics and touch screen. Integrating a diverse array of essential technology for safe navigation, from radar and chartplotter to windscreen wipers and horns, Telemar's Glass Bridge delivers a unified, ultra-modern aesthetic for luxury vessel bridges. |
| | 2:00pm | ThrowRaft | The ThrowRaft demo will consist of a few demos with multiple devices. The TD2401 we'll do an auto inflation into a small tub of water, manual inflation, a few throw tests in the packed/inflated positions, rearm and repack, etc. We will also demonstrate how the device fits into the mounting bracket and the attachments of multiple accessories such as strobe lights, PLB's, etc. We will also demonstrate The Survivor MOB personal safety life raft in the same manor as the TD2401. |
| | 3:00pm | | |